Charity Bailey
Music Education Pioneer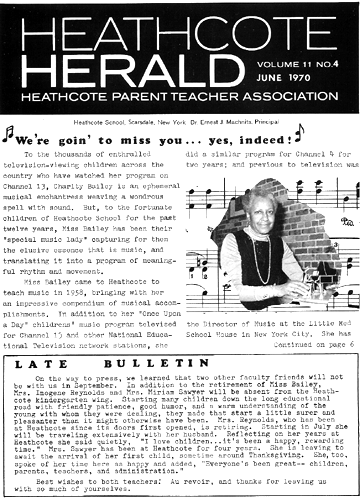 Charity Bailey's Retirement Announced, June 1970
Heathcote Herald; Heathcote Parent Teacher Association
June 1970 Volume 11 No. 4
Heathcote School, Scarsdale, New York, Dr. Ernest J. Machnits, Principal

We're goin' to miss you... yes, indeed!
To the thousands of enthralled television-viewing children across the country who have watched her program on Channel 13, Charity Bailey is an ephemeral musical enchantress weaving a wondrous spell with sound. But, to the fortunate children of Heathcote School for the past twelve years, Miss Bailey has been their "special music lady" capturing for them the elusive essence that is music, and translating it into a program of meaningful rhythm and movement.
Miss Bailey came to Heathcote to teach music in 1958, bringing with her an impressive compendium of musical accomplishments. In addition to her "Once Upon a Day" children's music program televised for Channel 13 and other National Educational Television network stations, she did a similar program for Channel 4 for two years; and previous to television was the Director of Music at the Little Red School House in New York City. She conducted workshops in music for teachers throughout the country -- including those at City College of New York and the University of Washington in Seattle, and is currently involved in Teacher Training workshops at the Bank Street College of Education in New York City.
Last year in San Francisco, Miss Bailey participated in a workshop devoted to furthering Teacher Education for disadvantaged children. In addition, she also serves as Music Consultant for a Professional Day Care Center in Charlotte, North Carolina, and is preparing cassette tapes for the Center's teaching staff.
Withal, and despite the demands of a staggering schedule, Charity Bailey has managed to write for educational publications and has published an impressive number of books and records. Her most recent recording has special meaning because it was done in conjunction with Steve Sahlein, a former pupil at Little Red School House.
Miss Bailey was trained in the Dalcroze Method which teaches music through body movements; and she feels "this is the natural way of expression for children." By using this improvisational movement or dance method, children eventually learn musical pattern and form. When a child is exposed first to the expressive quality of music his knowledge then expands to an understanding of tempo, dynamics, and harmony. Miss Bailey feels that "children should have all kinds of music."
And for these past twelve years the Heathcote children have had just that -- a music program as rich and varied as its designer! Miss Bailey, who leaves Heathcote at the term's end, leaves a lasting legacy -- of happy sounds and a joyous commitment to music.
---
Thanks to Ruth Spillman, longtime teacher at Heathcote School, for the copy of the Heathcote Herald as well as other remembrances of Charity Bailey.
Web page researched and designed by Dan Axtell. Please send me any additions or corrections.
danaxtell@
danaxtell.com
www.danaxtell.com/CharityBailey