Charity Bailey
Music Education Pioneer
Charity Bailey coverage in the New York Times
from an index search on www.nytimes.com with copies made from microfilm.
All images and newspaper text here are copyright The New York Times and used as excerpts.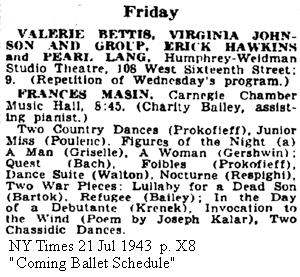 ---

---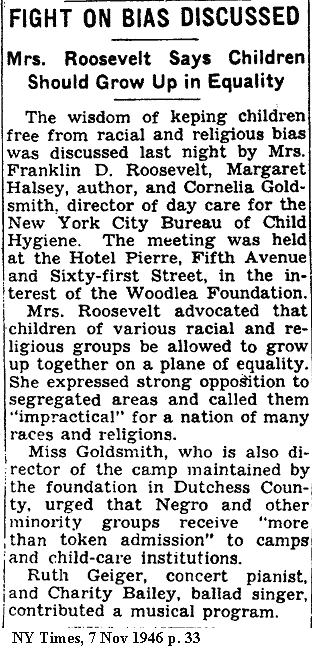 ---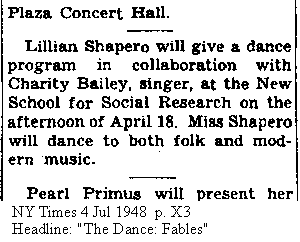 ---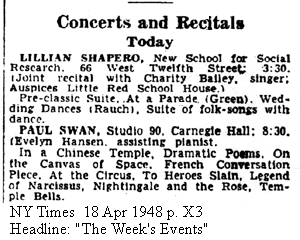 ---

---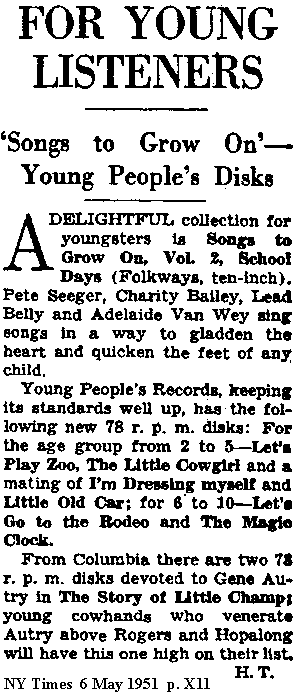 ---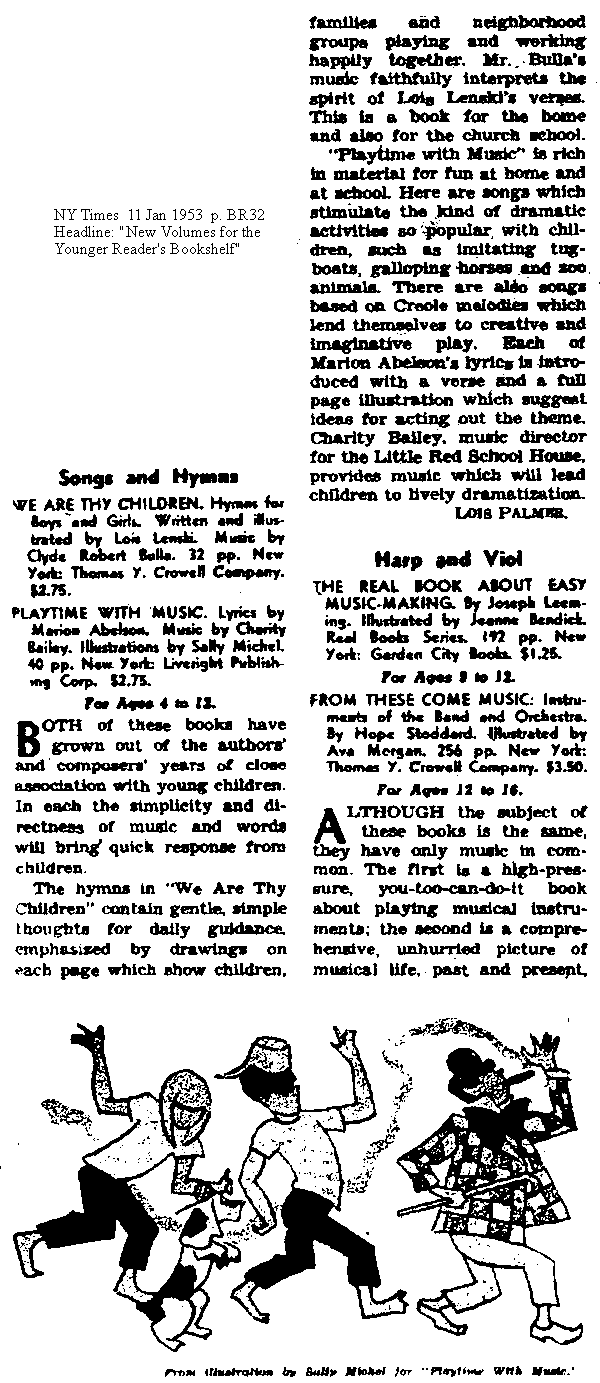 ---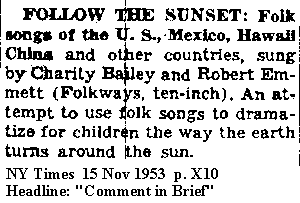 ---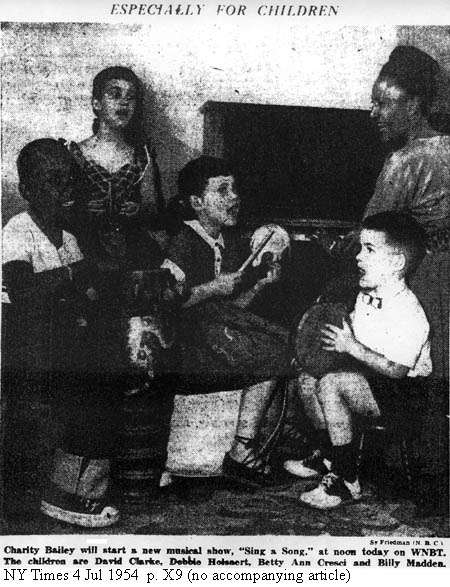 ---
NY Times 26 Jul 1954 p. 25
Television in Review
---
Folk Music Program Offers Creative Fare
---
Hooray for Channel 4! It is carrying a new musical program for children that not only seems to be exciting for creative young minds but also beguiling for adults. In short, the whole family--from grandma and grandpa on down to tiny tots--can relax and join in the fun.
Entitled "Sing-a-Song" and featuring folk music especially adapted to amuse and stimulate children, the program is presented on Sundays from 12 noon to 12:30 P. M. Children are led in song and simple musical productions by Charity Bailey, director of music at the Little Red School House, a private elementary school in Greenwich Village.
*
One would guess that Miss Bailey's approach is aimed primarily at children between the ages of 5 and 10, a group that has been sadly neglected by TV in the way of inspired programming. Amid large out pourings of cowboy and crime features, "Sing-a-Song" is a laudable effort toward bringing balance to children's programming and enlarging their interests.
The beauty of the show is that everyone has fun, an element frequently missing in so-called educational programs. Miss Bailey isn't out to be educational or even to teach music. With just the right amount of enthusiasm, she merely shows the ten children seated informally around her piano how to play a new game. If it happens that the game nourishes creative instincts, so much the better.
Yesterday Miss Bailey offered folk songs from various lands. One, a Creole song from Martinique entitled "Syrup Is So Sweet," was what Miss Bailey called a "make-up" song. After she gave the children the tune and the theme of the lyrics, they were asked to put in their own words as she played.
Miss Bailey distributes simple musical instruments such as bells, tambourines and cymbals for the children to embellish the musical stories. In yesterday's lively "production" number entitled "Pancake Festival," the children portrayed a pony, a rider and the mayor of the town. Two little girls spread out on the floor representing pancakes sizzling on a griddle.
*
This imaginative gambol spills right into the living room through Miss Bailey's direct appeal for youngsters at home to join in the song and prancing. She has the unusual ability of playing to the children in the studio and at home as if both groups were a single unit. And once the home children burst forth in song, it is a hardened elder who can refrain from joining in too.
As a performer, Miss Bailey is neither amateurish nor given to the traits of an artist bent on charming a sponsor by cuteness. Her style is a natural and straightaway. It almost seems that she effortlessly makes up the show as she goes along, although it is produced and written by Eunice Holsaert and directed by Larry Roemer.
As a Channel 4 feature, Miss Bailey follows Hopalong Cassidy, but she need have no fear. Hoppy can't play a piano and sing. V.A.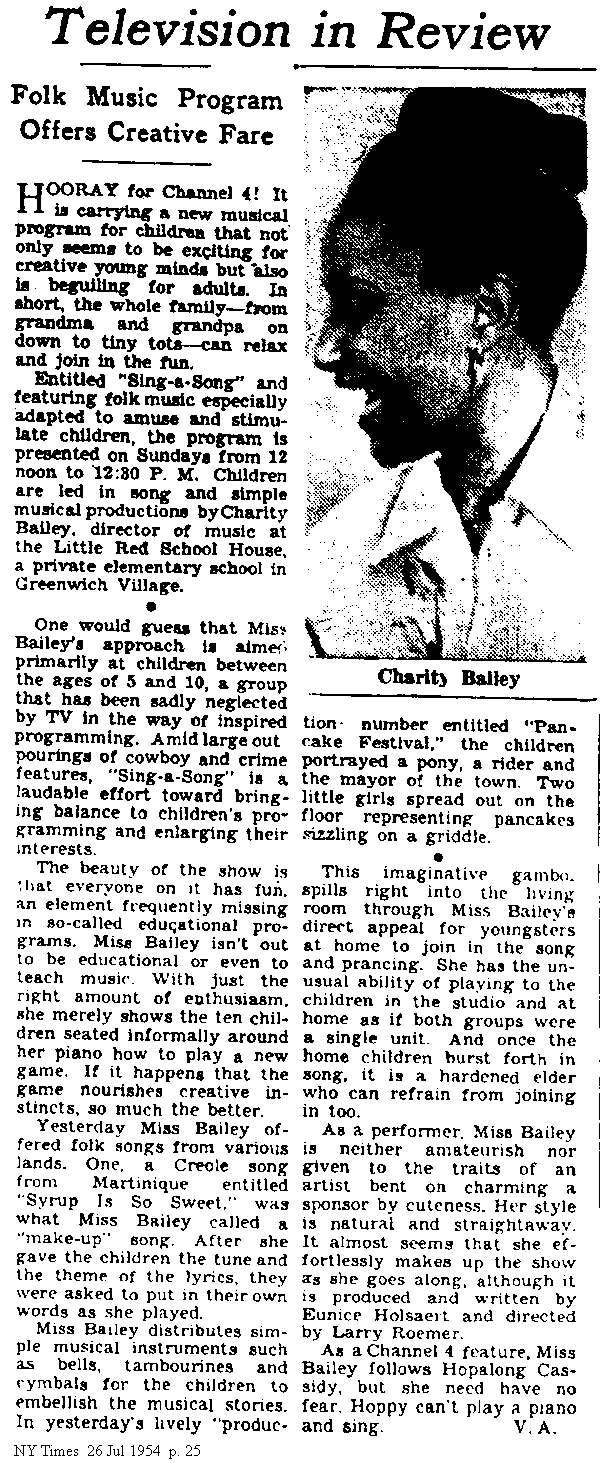 ---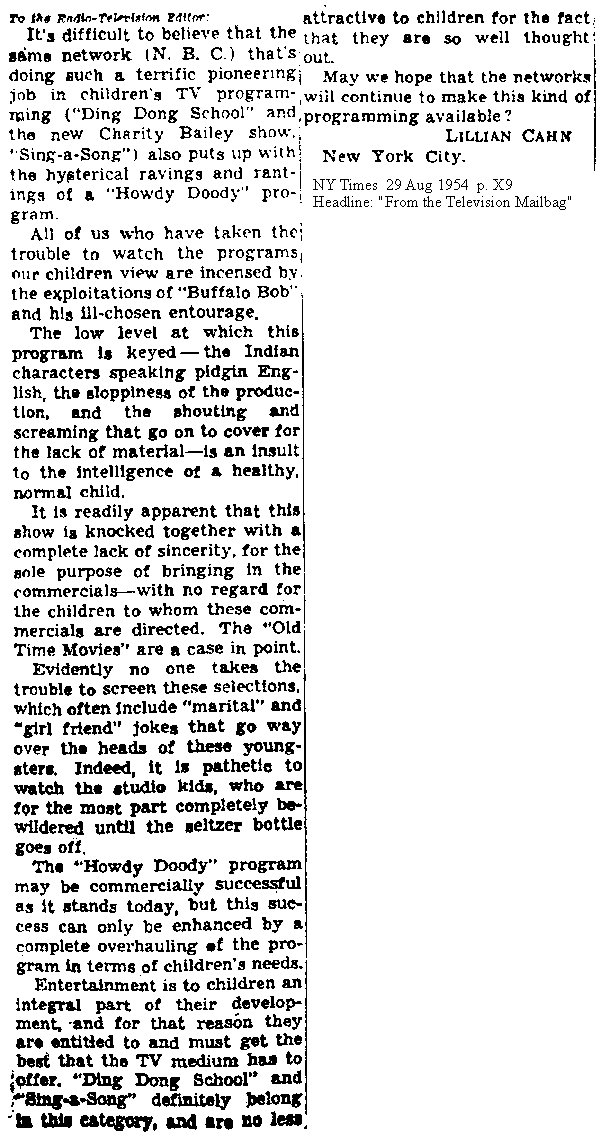 ---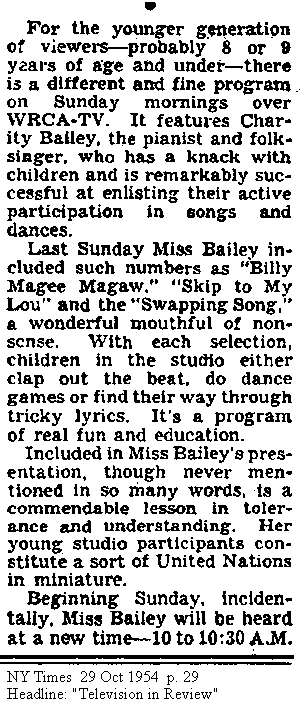 ---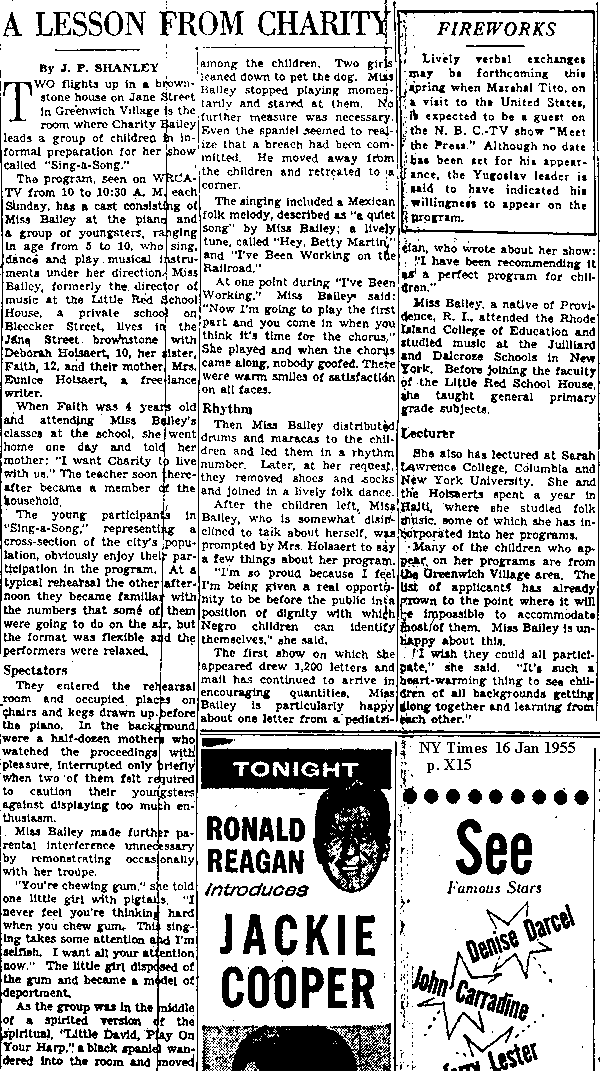 ---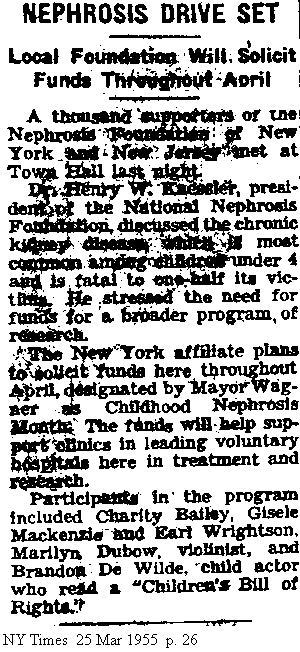 ---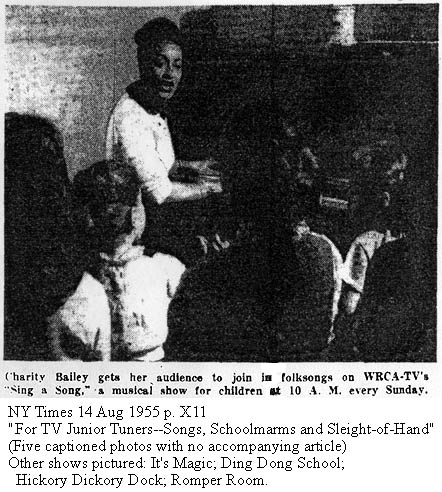 ---


Note that there are two references to "Charity Bailey" in the above excerpt.
---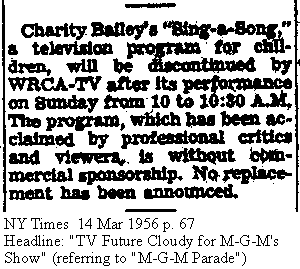 ---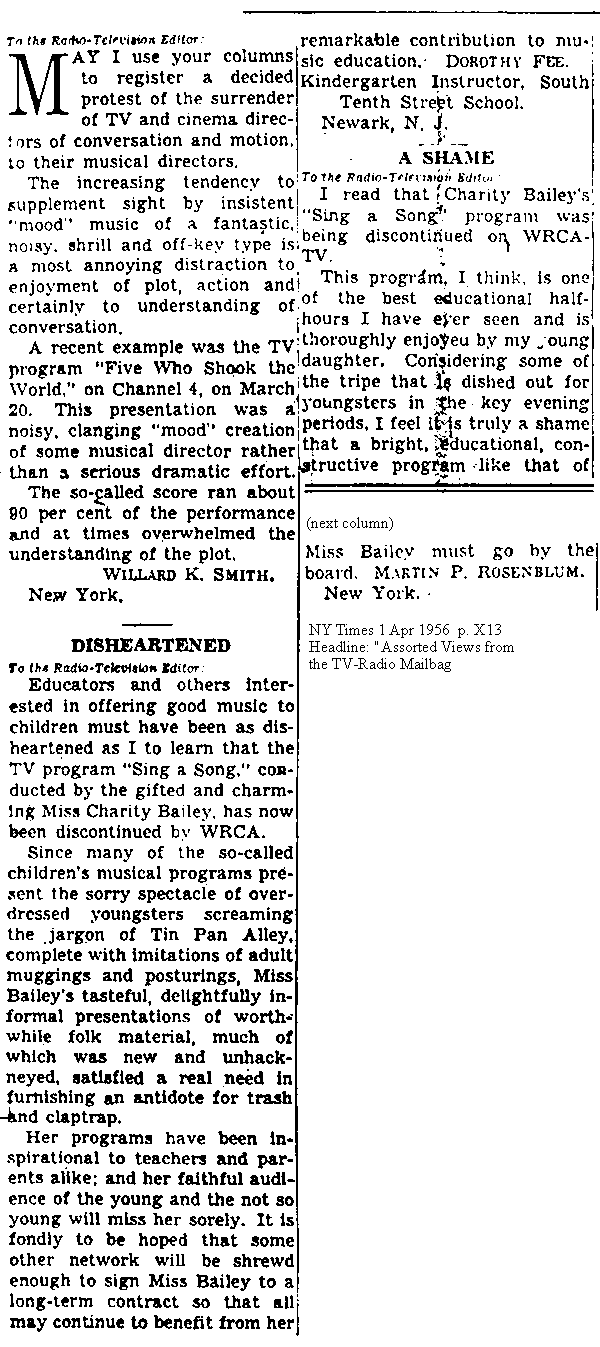 ---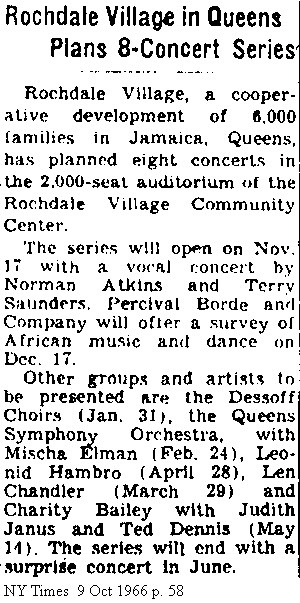 ---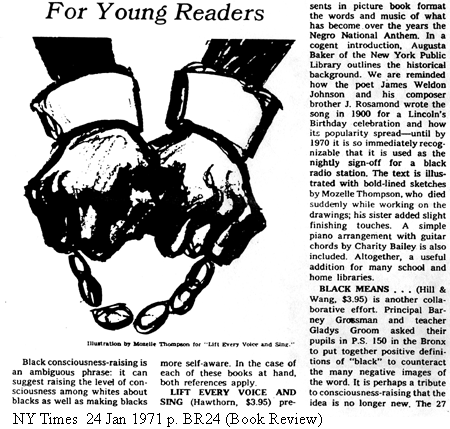 ---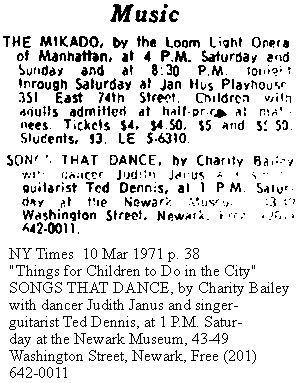 ---
"Charity Bailey" was mentioned in the daily television listings, too. The last occurrence was Friday, 7 Apr 1972.
---
Newspaper references collected by Dan Axtell in February 2005. Thanks to the Greenfield (MA) Community College Library for the availability of their complete NY Times microfilm collection and excellent microfilm scanner/software.
Web page researched and designed by Dan Axtell. Please send me any additions or corrections.
danaxtell@
danaxtell.com
www.danaxtell.com/CharityBailey